RFI – Immediate Need for Electronic Health Record System
A county department is seeking information on an operationally proven commercial off-the- shelf cloud-based or on-premises Electronic Health Record (eHR) System (Solution), including scheduling, charting, documentation and reporting features.
The intent of this RFI is to learn as much as possible about current and future solution technology trends.
The county department will review the responses to this RFI, which may subsequently lead to further investigation, including vendor demonstrations. Information received in response to this RFI may be used in the preparation of a Request for Proposal, an Invitation for Bid or other County solicitation method.
For more information, and to learn more about how Vendorship Inc. match-makes technology firms with opportunities just like these on local, state, and federal levels, Click the Image Below.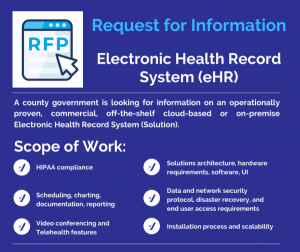 Every week opportunities such as this don't hear from qualified bidders.
Are you prepared to bid?
Whether RFIs, RFQs, RFPs – we find them.
Every day.
We keep up with the latest opportunities in local, state and federal contracting so you don't have to. Contact us to assess your eligibility, readiness and opportunities.
Get contracting oportunities right in your inbox: