We take the guesswork out of government contracting.
Vendorship Inc. 's custom program coaches and assists global companies of all sizes and in various industries to submit and secure revenue-generating contracts with local, county, state and federal US government
Our program is
methodical
customized and well-rounded
interactive
proprietary yet transparent
Vendorship's knowledge transfer program prepares our clients for successful proposal submission, every time.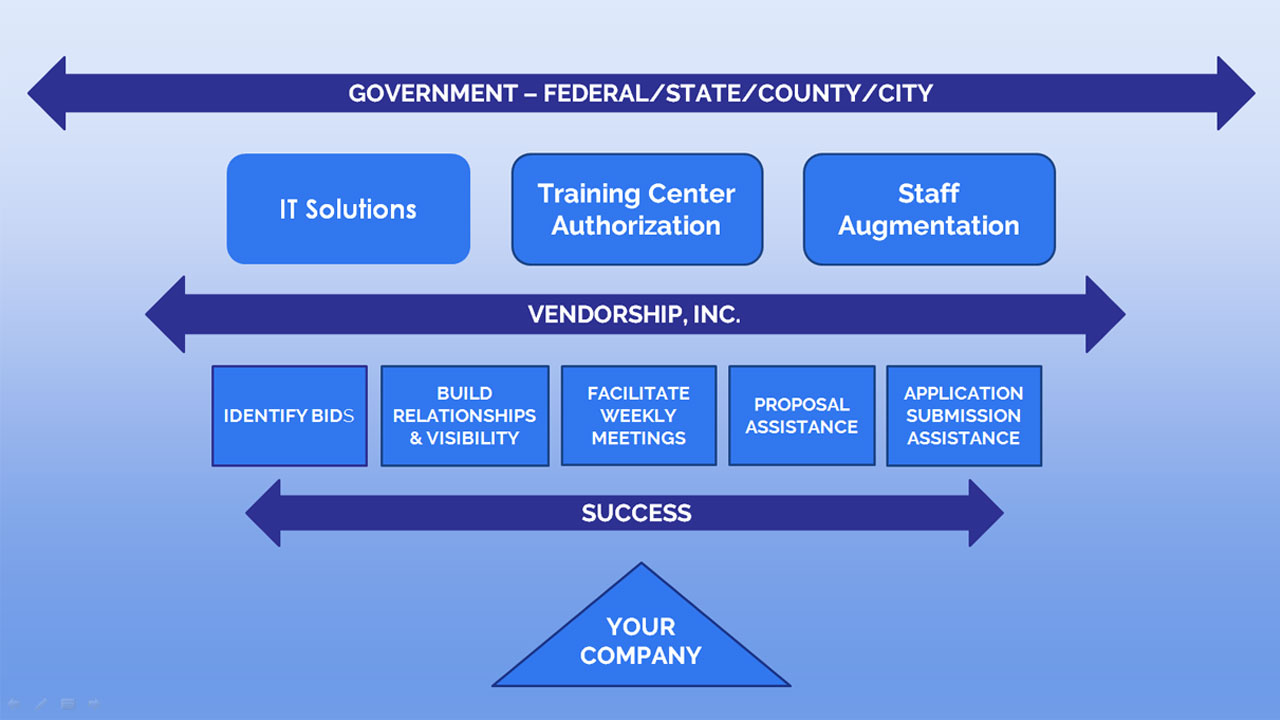 We provide what every thriving business needs: solid leads.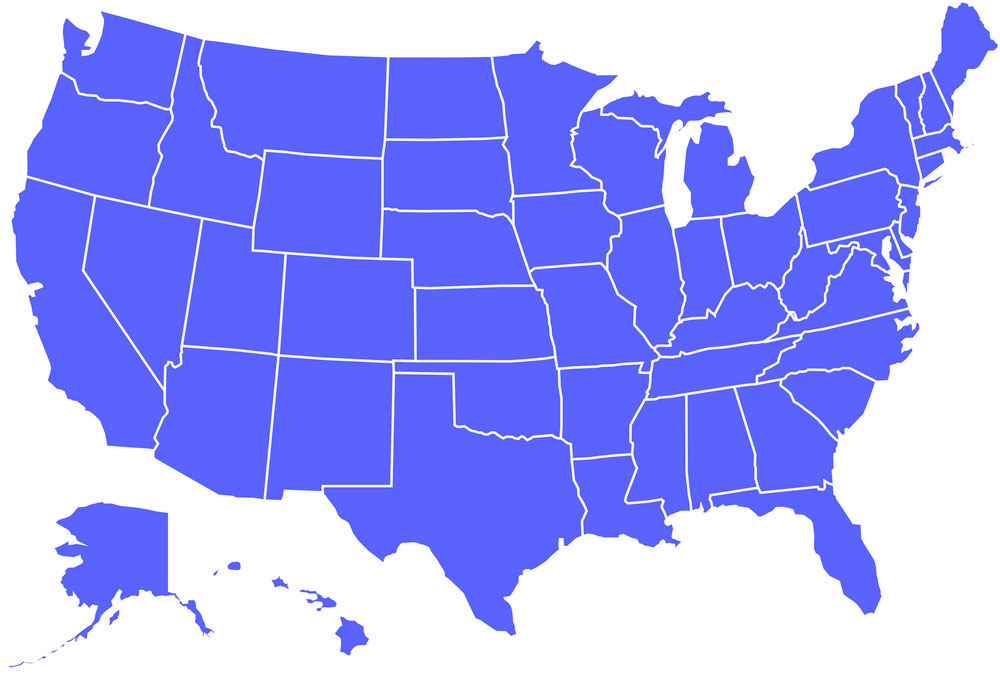 The United States government is the single largest purchaser of consumer goods / services in the world:
City and state government agencies spend close to $3.25 trillion annually.
The market is vast – and underserved!
For all who are providing cutting edge technology and high quality services, we continually identify your opportunities and establish business development connections.
We apply our win-win-win mind-set in whatever we do.
Since Vendorship's beginning we have aimed to champion our clients' success.  Our custom program adapts to and incorporates our clients' strategic goals. 100% of our clients have bid on government contracts, have become authorized providers of IT solutions, IT staff augmentation or government IT training centers, and pitched new technology to government agencies in need of new and creative solutions.
We put our expertise to work for our global clients.
Vendorship partners with you
To understand the government contracting marketplace:
State, county, city, education & Federal (DOD, DHS, and more)
To complete required documentation and/or certification

To obtain contract eligibility (government unified bidder list)

To acquire proposal and/or grant application writing know-how

To develop proposal writing expertise

To respond to open RFPs

To gain visibility for your company and your value proposition

To collect business development knowledge in the sector and

To access networking and business development opportunities
Specifically for Federal contracting we assist with the following:
SBA Certifications

(Woman Owned Small Business (WOSB) Program, HUBZone Program, 8(a) Business Development)
GSA 70 Schedule

Defense prime

Meeting updated cybersecurity requirements; Cybersecurity Maturity Model Certification (CMMC)

Obtaining a Security Clearance

STARS III subcontracting opportunities

Competitive forces and positioning

Meetings with government clients

Strengths, Weaknesses, Opportunities, Threats (SWOT)

Capture planning

Proposal writing support & Winning

Joint ventures/subcontracting 

Quality reviews of proposals

Cost and pricing presentations

Contract execution / client services
"Teamwork is the ability to work together toward a common vision. The ability to direct individual accomplishment toward organizational objectives. It is the fuel that allows common people to attain uncommon results."
Mission
Here at Vendorship Inc. –
We coach and assist
global companies of all sizes to successfully bid on United States government contracting opportunities, every time.
We share our know-how and coach companies
To reach required eligibility and develop a strong foundation for successful bidding.
We partner with clients
to secure revenue generating contracts with governmental and non-governmental agencies in the United States.
We value our relationships
between clients and providers, individuals, businesses and government entities.
We connect 
providers of cutting edge technology and quality vendors with local, county, state and federal government agencies for the benefit of all.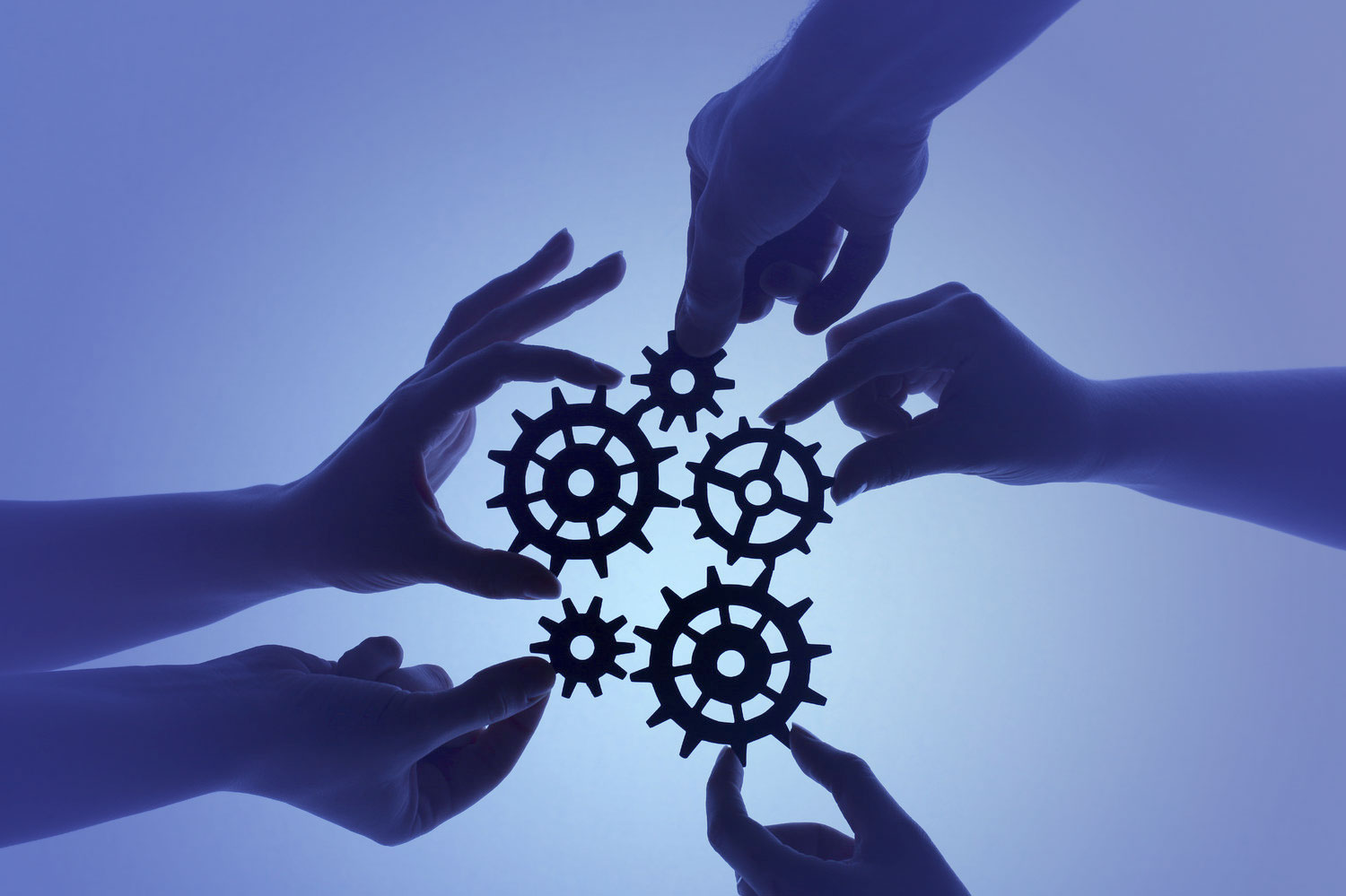 Vendorship Inc. combines supportive collaboration, win-win solutions and transparency to provide customer-centered service for continual successful bidding.
"Smart teams will do amazing things, but truly diverse teams will do impossible things."
Diversity & Inclusion
There is no room in society for injustice and discrimination. We want a society that offers all voices a chance to be heard and be valued. As an organization, we are committed to joining others in meaningful conversations and purposeful, constructive actions.
We believe that voting, peaceful protests, community activism and volunteerism are foundational to creating the world we envision. All of us play a role in taking the steps toward a more inclusive world.
We apply our wIn-wIn-win approach to everything we do. We build relationships and collaborative partnerships based on supportive actions. We are personal, authentic, honest, transparent and supportive of others in their pursuit of success, We are successful when we help others succeed.
Our diverse team is no stranger to misunderstandings and disagreements. We know that giving each other the safe space to share our thoughts makes us better and stronger. It's hard work but we wouldn't miss the opportunity to learn from each other. We want to grow together.
We even have a channel of communication dedicated to open and non-judgemental conversations about stereo-types … thus educating others in the team and disarming the loaded messages.
The bunch of community influencers we are, we organize community building events to facilitate meaningful conversations as a catalyst for  transformational change. We encourage all to explore something new while enjoying the process of discovery. There is so much to learn from one another.,  There is so much to celebrate, together.
Here are a few of the organizations we support:
At Vendorship, we are committed to inviting and supporting collaborators of all sorts and in all aspects of our business and know that diversity of background and diversity of thought are instrumental in the sustainable growth of our company.
"If everyone is moving forward together, then success takes care of itself."
ADVISORY BOARD
Rajan Luthra

Chairman / Co Founder

Being equal parts entrepreneur, philanthropist and visionary, Rajan has launched numerous business ventures...

Read more

Sallie Wright

Advisory Board

Sallie Wright has been a senior technology executive for almost 40 years. Her tech career has included...

Read more

Harper Bronson

Advisory Board

Harper is a Global Program Management executive with 15 years of experience in varied industries. Her...

Read more
"The strength of the team is each individual member. The strength of each member is the team."