February 2021 Newsletter: Staff Augmentation + IT Talent Acquisition
With more government funding and resources devoted to remote working and digital infrastructure in this continuing pandemic era, your Vendorship Inc. team is tracking these developments on local, state, and federal levels and providing valuable resources in our February newsletter.
2021 budgets show: information technology workforce development, staff augmentation, and talent acquisition are trending in Q1 on local, state, and federal levels. Entities are relying on outsourcing and pre-vetted vendors and to initiate, fulfill, and wholly monitor and manage most if not all aspects of digital transformation and  technology modernization as well as software implementation to keep government functions running effectively and efficiently.
On the private enterprise front, and for those vying for some $200 billion in local and state government contracts alone, IT talent acquisition and technical expertise ranked amongst the highest hiring attributes even two years ago in a  Wakefield online survey of 500 hiring managers nationwide.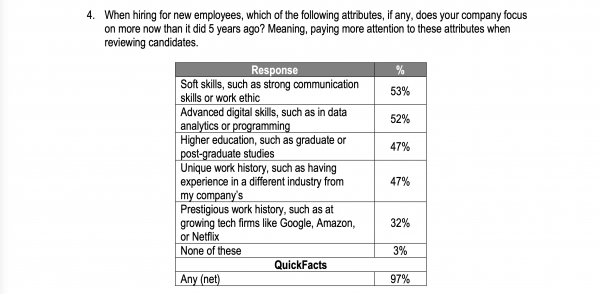 "When hiring for new employees, which of the following attributes, if any, does your company focus on more now than it did 5 years ago? Meaning, paying more attention to these attributes when reviewing candidates." the survey asked. 
Advanced digital skills, such as data analytics or programming, ranked second at 52% second only to soft skills at 53%.
Forbes contributor Aron Derbidge recently wrote a series about staff augmentation best practices for government and observed its mission critical attributes::
"Another scenario in which it makes sense is when you have a critical opening and your ultimate goal is to fill it with a regular hire. The challenge is that for most positions, the search can take months. Temporary talent from a staff augmentation consultant can help you bridge the gap.
Similarly, staff augmentation can give you a competitive edge in your talent acquisition strategy. It lets top talent "try before they buy" and see if your agency or company is a good fit before transitioning to direct hire status, according to a report by Harvard Business Review. As demand grows, for new and emergent skills, including UX design, cybersecurity, and data science, workers around the world — and labor markets — are struggling to keep up.
In fact, the Pennsylvania legislature is considering House Bill 1704, which would combine most state departmental IT offices and its short-and long-term planning, procurement, and cyber-security protection into a single Office of Technology under the governor's Office of Administration.
According to a recent survey conducted by the World Economic Forum, nearly eight in 10 global CEOs say they're concerned about the availability of people with the right skills.
✔️Check out what's more ahead: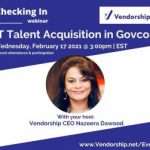 We will continue diving into the subject in our popular 'Checking In' webinar entitled 'IT Talent Acquisition in Govcon"  this month.
Our no-cost third-Wednesday monthly webinars provide valuable information from expert panelists from the front lines of their respective positions.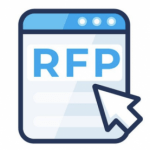 Also be on the lookout for our upcoming featured RFP focusing on a major county government with nearly 3,000 employees serving approximately 740,000 residents seeking to secure a long-term vendor to provide a full-stack human resources and applicant tracking system
Don't miss any updates and follow us on our social media channels, direct email deliveries, or here at Vendorship.net.
Vendorship.net: We Make Government Contracting Easy™
Get contracting oportunities right in your inbox: