February Newsletter + IT Leadership Fosters Loyalty Culture
Information Technology Leadership: People-Driven Team-Building and Loyalty Culture
The best leaders are inspirational and transformative. They motivate, inspire, and empower rather than simply dictating or directing those around them. Leaders need to garner specific results that often require sustainable behavioral changes for both individuals and groups. To get these results, you need to both influence and motivate the people around you.
Many people view influence and motivation as one and the same, but they are not, and it is important to be able to use them separately or together. Influence involves having an impact on other people's actions, thoughts, attitudes, beliefs, or emotions, while motivation is about getting people to change and sustain that change after they have been influenced.
This is the preamble of Cornell University's six-part online  Technology Leadership Certificate, providing graduates focused concentrations in strengths and values-based technology leadership; decision-making skills; collaborative and courageous communication; and influence and motivation techniques.
As crucially-needed technology continues to grow and expand in the pandemic era and beyond, the roles of IT  leadership and mentorship are following commensurate suit.
Following our February 17th third-Wednesday Checking In webinar, 'IT Talent Acquisition: Trends & Applications Across Local Governments', ' featuring panelists from across the nation and along the front lines of governmental human resources and IT talent acquisition, Vendorship Inc.'s monthly newsletter reaches its finale observing the people-driven process of IT public and private-sector IT staffing.
Well before COVID's global spread, Susanna Ronalds-Hannon, City of Boston's Director of Innovation and Technology at Department of Neighborhood Development and GovLoop.com contributer, outlined several talent acquisition challenges government's face as the number of STEM jobs in the United States still today eclipse a workforce equipped to fill them.
"Talent is integral to meeting the mission-driven goals of any large organization. For IT in particular, it's not just a matter of recruiting intelligent people from top universities, other cities, or from the private sector – we also have to vet recruits for specific technical knowledge and competency with our applications and architecture,: Ronalds-Hannon reported.
Or who in the workforce to lead them.
But leadership processes amongst the brightest minds in the IT field is a developing one in and of itself. Great leadership and teambuilding fosters loyalty, said webinar panelist Angela Peña-Ward, Managing partner of  San Antonio-based 5 Wards Group . 
"We try really hard to foster communication with the people and the team that we have in place with different agencies," she said. "Because fostering loyalty is not just the department of the municipality, or the county, or the state, or the agency where they're working. But we feel like it's ours too. And that we have a responsibility to our clients to foster communication and loyalty with the team member we have working there. So, I think that does help to grow some retention around who we place and where."
At the end of the day, webinar panelist Laura Vinson,Talent Acquisition Strategist with  Lane County (Oregon),  said it all comes down to three key things: People, Purpose, and Passion. 
As technology this past year and in the foreseeable future has become more crucial than ever in governmental operations, "we all work towards a common mission to improve lives and connect people to do more good in their local communities," Vinson said.
Vendorship Inc. is pleased to announce its expanding leadership with the naming of two new Advisory Board members.:
Darryl Ricardo Matthews, Sr.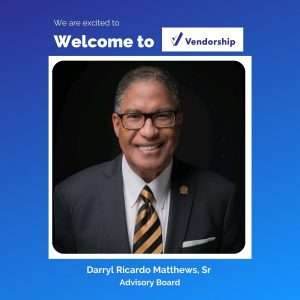 A highly respected, effective, successful senior association executive, experienced in municipal, and federal government operations, and association management, recently serving as the Executive Director of the National Association of Black Journalists, (NABJ) and prior to that as Executive Director of the National Medical Association, (NMA). Darryl brings years of valuable and diverse experience to Vendorship Inc.
Nakia Grayson
Vendorship Inc. is proud to announce Nakia Grayson's appointment to its Advisory Board.
Nakia will provide invaluable influence and guidance from her position as a federal government IT security specialist.
Prior to her security specialist position, she held key administrative NIST roles serving as administrative officer, overseeing of the Grants Management Division (GMD)'s financial, budget and staffing management, as well and providing support to administrative operation programs in the Office of Acquisition and Agreements (OAAM) headquarters office.
Join us in March when we focus the month of newsletters social media content, our sample RFP, and our third-Wednesday Checking In webinar on federal contracting –  and how.Vendorship Inc. prepares and positions information technology firms and other professional services verticals for big wins in this trillion-dollar market.
Vendorship.net: We Make Government Contracting Easy™
Get contracting oportunities right in your inbox: