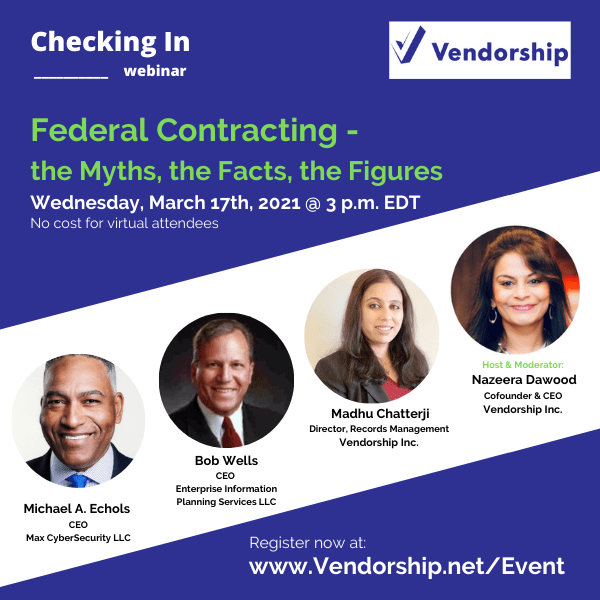 MARCH 2021 CHECKING IN WEBINAR
Key takeaways: 
✔️ In many instances, subcontractors — small business, especially — are strategically sourced by larger federal contracting bidders to provide speciality gaps or meet certain SBA 8a requirements.
✔️ Networking and visibility to federal contracting officers is key in navigating the fed bidding labyrinth — but there's a fine line between that and 'favoritism'; which in panelist Bob Wells made explicitly clear: "You can't even buy contracting officers a cup of coffee."
✔️ Money alignment, or 'aligning to the money', as panelist Michael Echols pointed out, is key to defining best-fit strategy to winning large contracts. Know your tech firm's strengths and seek 'subs' or 'primes' to align gaps for winning bids.
✔️ GSA schedule is often referred to as the Amazon (dot)(com) of the federal government's purchasing matrix. Once you're 'in the club', Mr. Echols said, it's easier to navigate the system.
✔️ Don't get so easily discouraged, but be sure to attain Small Business Administration credentials as they're necessary for most contracting considerations.
✔️ Don't be afraid to file a protest in the event a firm feels something was awry in the bidding and decision-making process.
✔️ Small business is the engine powering the United States' economy. There are billions of dollars earmarked just for small business bidders — find them, get your 'hunting license', and deliver on commitment. "It's well worth it," Mr. Echols said.
Why Vendorship Inc.?
We keep up with the latest opportunities in government contracting so you don't have to. Contact us to assess your eligibility, readiness, and opportunities.
Vendorship.net: We Make Government Contracting Easy™
Get contracting oportunities right in your inbox: