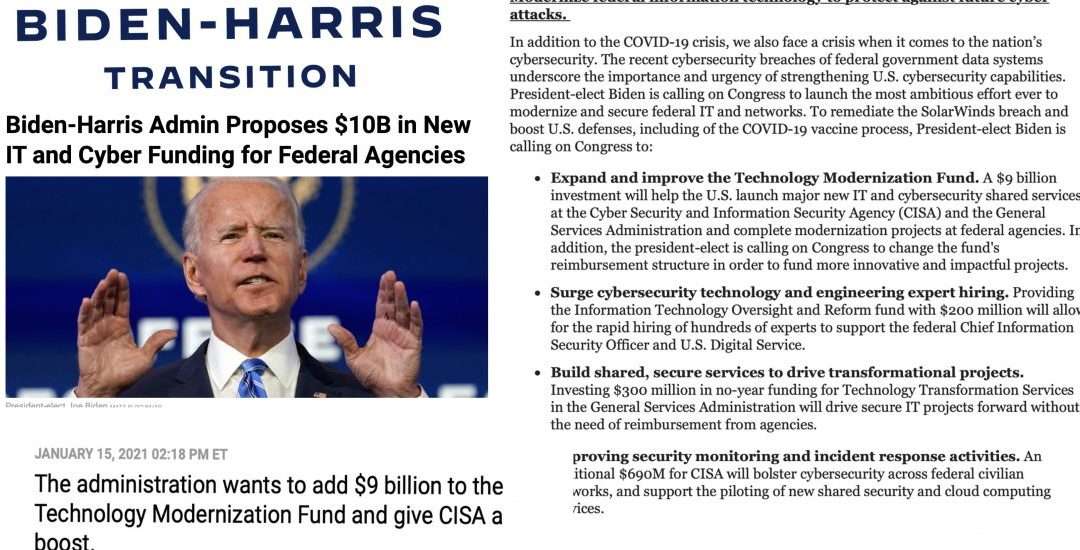 Biden-Harris Admin Proposes $10B in New IT and Cyber Funding for Federal Agencies

The Biden-Harris administration this week issued a Fact Sheet announcing it  wants congressional approval for a massive spending plan that will enable its incoming team to hit the ground running, including more than $10 billion for a spate of IT and cybersecurity initiatives, some of which would fundamentally change federal programs.
NextGov Senior Editor Aaron Boyd reports:
"The transition team for President-elect Joe Biden released a $1.9 trillion plan to help the U.S. recover from a crushing year of economic instability caused by the COVID-19 pandemic. While most of the American Rescue Plan focuses on vaccine rollout, stimulus checks and job creation, a fact sheet detailing specifics of the plan also includes funding for IT modernization and cybersecurity upgrades for federal agencies.
"In addition to addressing the public health and economic crises head on, the president-elect's plan will provide emergency funding to upgrade federal information technology infrastructure and address the recent breaches of federal government data systems," the fact sheet states, alluding to the recent SolarWinds breaches. "This is an urgent national security issue that cannot wait."
The plan calls on Congress to "expand and improve" the Technology Modernization Fund, including a multibillion-dollar cash infusion and overhauling the structure of the program.
"A $9 billion investment will help the U.S. launch major new IT and cybersecurity shared services at the Cyber Security and Information Security Agency and the General Services Administration and complete modernization projects at federal agencies," according to the fact sheet.
The TMF—established as part of the Modernizing Government Technology Act of 2017—was designed to be a self-sustaining centralized pool from which agencies can apply for loans for technology upgrades. To date, Congress has only approved a maximum of $150 million for the fund: After an initial outlay of $100 million, lawmakers have declined to add more than $25 million per budget cycle. Biden's proposal dwarfs those amounts.
The program works through a proposal-approval process, in which a board of federal technology officials review pitches from agencies and pick the projects they believe will have the greatest return on investment and ability to scale across government. Currently, agencies must repay the fund over three to five years.
Under the Biden plan, that repayment schedule would be altered to "fund more innovative and impactful projects," though it does not explain what that new structure would look like or how it would support innovation and impact.
The plan also calls for a direct award to CISA and GSA to improve cybersecurity shared services. It is unclear how that would work with the TMF Board's proposal process. Under the current structure, any projects to boost shared services offerings from CISA or GSA using TMF resources would first need to go through the full approval process.
CISA already leads on several governmentwide cybersecurity initiatives, including heading the cybersecurity-focused Quality Service Management Office. The plan does not specify whether Biden would continue the Trump-era QSMO program or start a new shared services effort.
The new administration wants an additional $690 million for CISA to "bolster cybersecurity across federal civilian networks, and support the piloting of new shared security and cloud computing services."
The wording in the plan suggests that under the Biden-Harris administration, GSA's Technology Transformation Services would shift away from a fee-for-service."
Your Vendorship Inc. team is monitoring these developments and is prepared to deliver RFP information when they come available.
To learn more about how we deliver tailor-made turnkey solutions in the government contracting sector on local, state, and federal levels, and to determine your eligibility, contact us direct by email at [email protected]
Vendorship.net: We Make Government Contracting Easy™
To review this week's Biden-Harris American Rescue Plan in its entirety activate the graphic below: :
Get contracting oportunities right in your inbox: