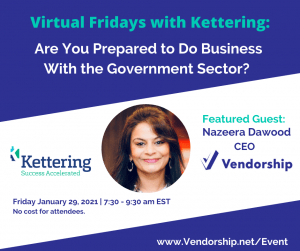 Vendorship Inc. CEO Nazeera Dawood will join Kettering (Atlanta's Premier
Executive Network) Friday January 29th at 7:30 a.m. EST as a featured guest for its Fridays With Kettering Series.
'Are You Prepared to Do Business With the Government Sector?' will explore government contracting opportunities across local, state, and federal sectors.
This two-hour no-cost presentation will serve to provide valuable insights in the following areas:
1. Opportunities for Information Technology and other industries in the public sectors.
2. Challenges and obstacles for securing government contracts.
3. How should a firm lay the foundation to be prepared for government contracting?
4. Government trends during COVID-19.
5. Resources & collaborative opportunities.
"Vendorship Inc. is pleased to engage in this special collaborative presence with Kettering whose leadership values align with our own," said Dawood. "Our win-win-win philosophy patterns Kettering's diversity-focused, peer-development mission to foster continuous learning and servant leadership principles in its many member-volunteers."
To virtually attend this informative presentation, activate the Register Now button below and follow the prompts for calendar reminders leading into Friday.