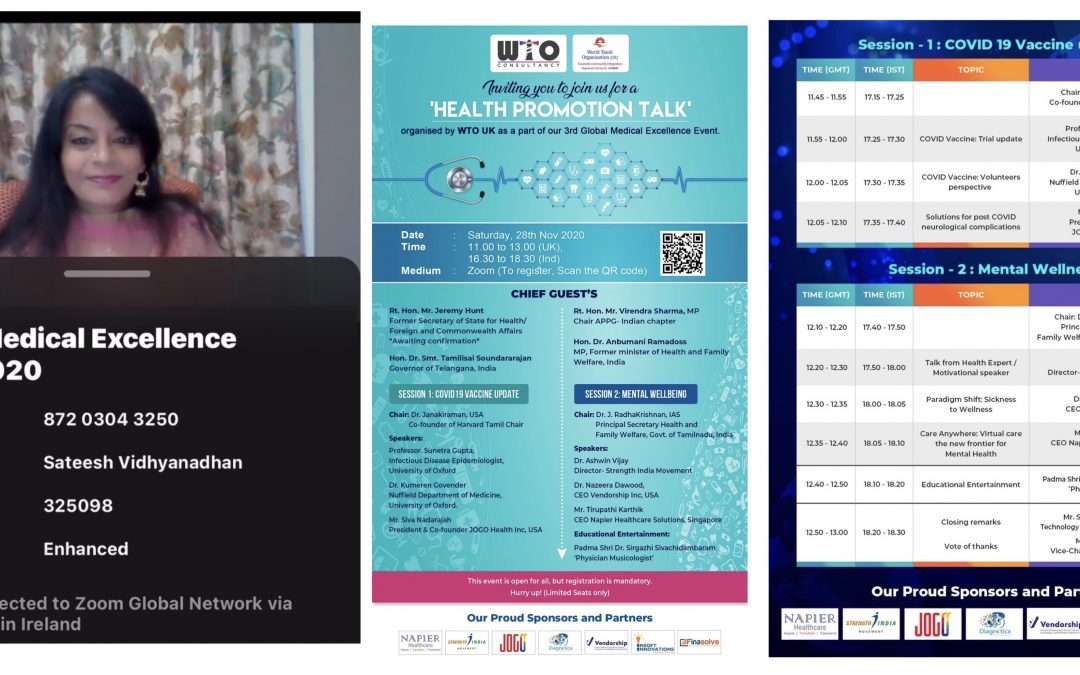 Vendorship Inc. CEO Nazeera Dawood Participated In Global Virtual Health Panel Addressing Cross-Cultural Pandemic Effects
Vendorship Inc.'s  CEO Nazeera Dawood  participated Saturday Nov. 28 as a title-sponsored panelist in a global webinar when she joined scholars and experts  to address the on-going pandemic and its affects on physical and mental health. 
Her former career as a medical doctor provided valuable insights to panelists and virtual attendees into personal mental and physical wellness practices as COVID-19 continues to create chasms in the way people from the around the world interact.
The World Tamil Organisation [UK]'s 3rd Global Medical Excellence Webinar 'Road to Recovery: Vaccinations & Mental Wellbeing' addressed ways people cope and adjust to the pandemic's separating effects on societies around the world. 
Dr. Dawood's segment, 'Paradigm Shift: Sickness to Wellness', provided several takeaways from her former governmental positions implementing community-wide wellness programs in her home state of Georgia (USA) and its most populous county and home to the state's capital city, Atlanta/Fulton County: 
• Take time to exercise outdoors and get plenty of sunlight and fresh air 
• A well-balanced diet and adequate sleep are crucial to maintaining optimum health during times of stress and uncertainty 
• Seek help from family and peer networks, and professionals, in the event an individual feels mentally or emotionally overwhelmed
"Vendorship Inc. is proud of the concerns world leaders continue to express to address rapid and safe vaccine development efficacy and the personal empathy they continue to extend to worldwide populations," Dawood said. "Participating in this event also allowed Vendorship the opportunity to exercise a core tenet of our own social responsibility efforts and mission beliefs." 
To learn more about Vendorship Inc's commitment to social responsibility issues here at home and globally, visit our 'About' tab.
Vendorship.net:  We Make Government Contracting Easy™
Get contracting oportunities right in your inbox: