Your Vendorship Inc. team has identified a crucial need in a local county government for financial management systems software upgrades with long-term potential. 
A departure from Vendorship Inc.'s monthly nationwide RFP tracking samples is this exploratory long-term-potential Request for Expression of Interest [RFEI] opportunity with a  tourism-driven coastal county seeking requirements from qualified financial management software vendors to assist in technical support, systems architecture, and existing integrations for its municipal solid waste and recycling programs. Qualified integrated solutions provider candidates will possess harmonious best-of-breed capabilities to integrate or altogether replace existing FMS software and tandem reporting systems.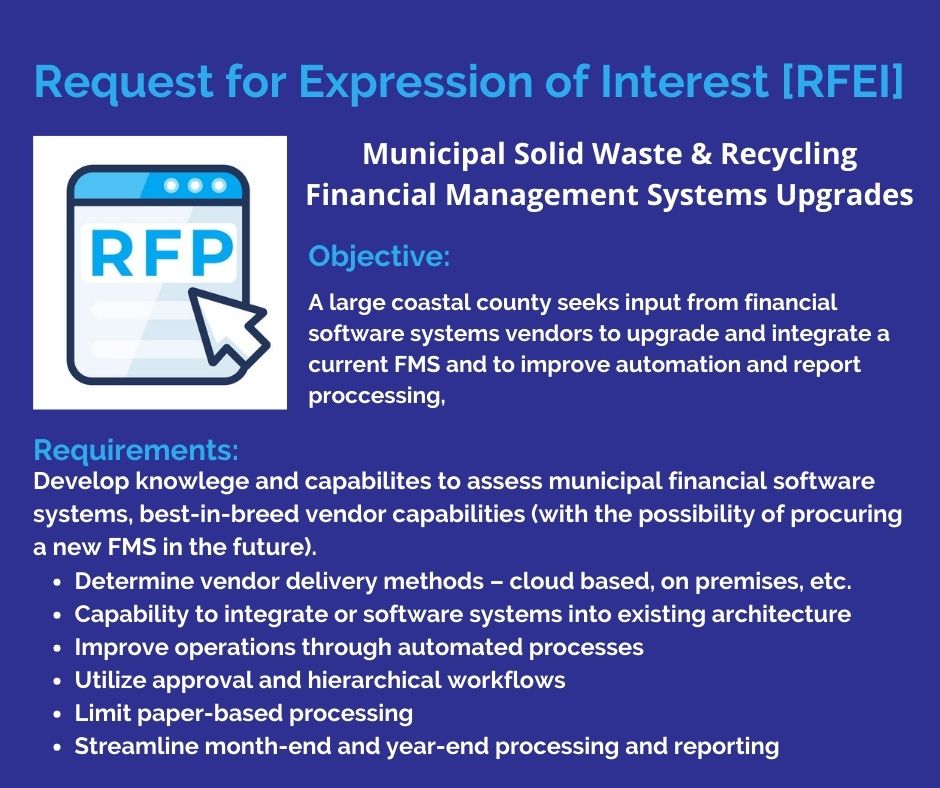 The ideal candidate will offer best solutions for cloud-based and on-site management systems, as well as intrinsics in streamlining processes.
To learn more about this potentially long-term opportunity, and how your Vendorship Inc. team finds, identifies, and delivers big wins in the government contracting process in local, state, and federal arenas, contact us directly by email at Info@Vendorship.net. 
Vendorship.net: We Make Government Contracting Easy™
For more information on this particular opportunity click the button below: 

•••
Why Vendorship Inc.?
We keep up with the latest opportunities in government contracting so you don't have to.
Contact us to assess 
your
 eligibility, readiness and opportunities.
Vendorship.net: We Make Government Contracting Easy™