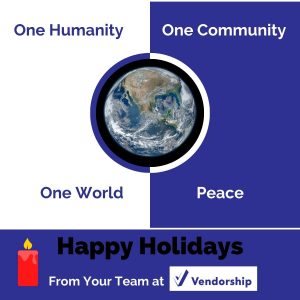 Joyful Holidays
Happy Hanukkah
צייטן גרעעטינגס
Happy Kwanzaa
Frohe Feiertage
Joyeuses Fêtes
¡Felices Fiestas!
Buone Feste
季節のご挨拶
Festas felizes!
நல்வாழ்த்துக்கள்
Nalvāḻttukkaḷ
ਛੁੱਟੀਆਂ ਮੁਬਾਰਕ
শুভ ছুটির দিন
ಸಂತೋಷದ ರಜಾದಿನಗಳು
శుభ శెలవుదినాలు
शुभकामनाएँ
عطل سعيدة
Seasons greetings from your Vendorship Inc. team and from our families to yours as we share our diversely heartfelt holiday wishes for a brighter season ahead in the new year.
While many faced unbearably grim personal and professional challenges in 2020,  an outpouring of communal support and compassion around the world carried us through to this week and moments of reflection and hope for a new and prosperous year ahead.
"We hope our monthly 'Checking In' webinars that will continue into 2021 provided those in sequester or remote-only situations a direct delivery of connectivity, inspiration, and information value we strive to provide our audiences here at Vendorship Inc.," says CEO Nazeera Dawood. "Your Vendorship team remains grateful to our many panelists who joined us with their valuable time and authentic expertise –– in many cases invitations into their private spaces where they sat with us to candidly discuss their past experiences and forward-looking action plans for 2021.
But Vendorship Inc.is most especially thankful to our attendees who provided their positive feedback and joined in our live webinar chats and dialogue on our official LinkedIn page," Dawood adds.
Vendorship Inc. is also pleased to announce a major investment in a client + partner-focused product on our website allowing them even greater access, control, and transparency of their real-time RFP progress. 
"Thanks to our win-win-win partners in government contracting we are utilizing feedback to continually improve our process," says Vendorship Inc. Director, Marketing, Sabine Genet. "We look forward to another year of innovative solutions that make government contracting even more easier in the new year."
This year also marked a major milestone for our growing people-focused company: Vendorship Inc. surpassed more than $564K in total sales and $266,570 in revenue marking the largest increases so far with our new and existing client-partners.
"As a tandem extension of our client-partners turnkey government contracting, proposal writing, and bid submitting process, we were able to work as closely as nimbly with them to deliver big wins in the information technology and IT staff augmentation sectors," Dawood concludes.
"And we are looking forward to delivering even better service and convenience for all Vendorship Inc. client-partners in the new year ahead. And we remain humbly grateful for those opportunities with many more ahead."
We keep up with the latest opportunities in government contracting so you don't have to.
Contact us to assess 
your
 eligibility, readiness and opportunities.
Vendorship.net: We Make Government Contracting Easy™